Association Leaders Receive Grants for Professional Development and Continuing Education
The Florida Society of Association Executives Foundation has granted over $17,600 this year to 29 professionals across Florida. The members that will receive these grants will use the 2019 funds for professional development and educational opportunities that help advance their careers in the non-profit and association management industry.
"The Hilton Hotel Sponsors are so honored to be part of Hilton's Diversity and Inclusion Grant.  In a time where there seems to be so much divide, we are proud to be advocates in uniting and providing professional development opportunities for our association professionals. Hilton is not just a company committed to diversity and inclusion, we embody it and we look forward to continuing this partnership for years to come!" said Cheryl James, Hilton Worldwide (who partnered with a select number of Florida Hilton Properties to provide this grant).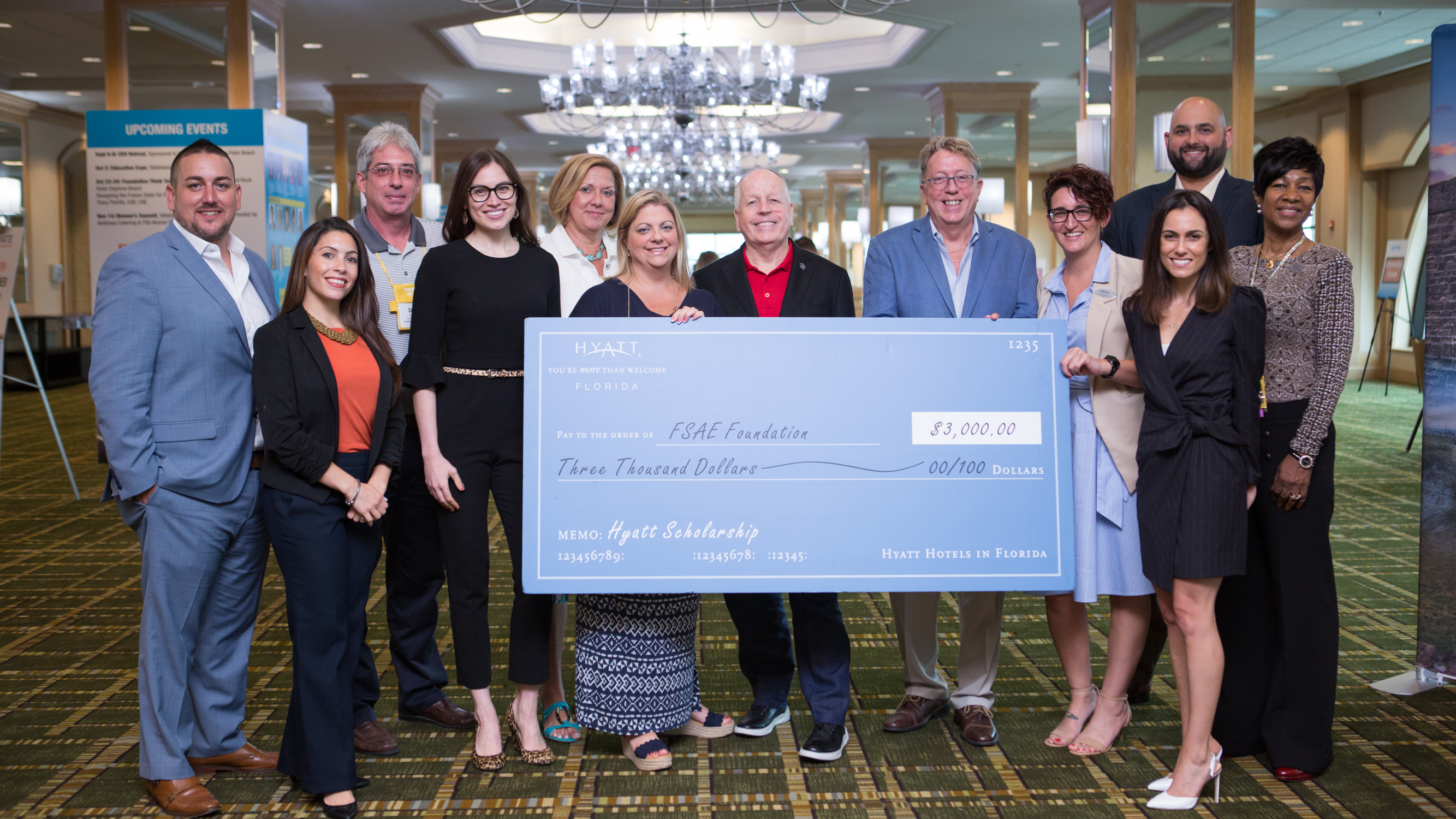 "Hyatt Hotels in Florida are a proud, longstanding partner of the FSAE Foundation and FSAE.  We are honored to have the opportunity to support FSAE Members as they strive to further their careers and professional development and we look forward to continuing our partnership for years to come!" said Timothy Bell, Hyatt Hotels in Florida.
"Marriott International Hotels and Resorts of Florida is proud to once again provide grants to those executives who would not otherwise be able to attend the FSAE Annual Conference.  Since 2007, it has been our pleasure to sponsor six individuals each year. We are proud to support FSAE and the FSAE Foundation" said Chip Minick, Marriott International.
"MemberClicks is proud to be a long-standing supporter of FSAE and the FSAE Foundation Grant Program. Association professionals do so much to advance their respective industries. They all deserve to advance professionally, and it's a privilege to assist in the funding of that," said Mark Sedgley, President and CEO of MemberClicks.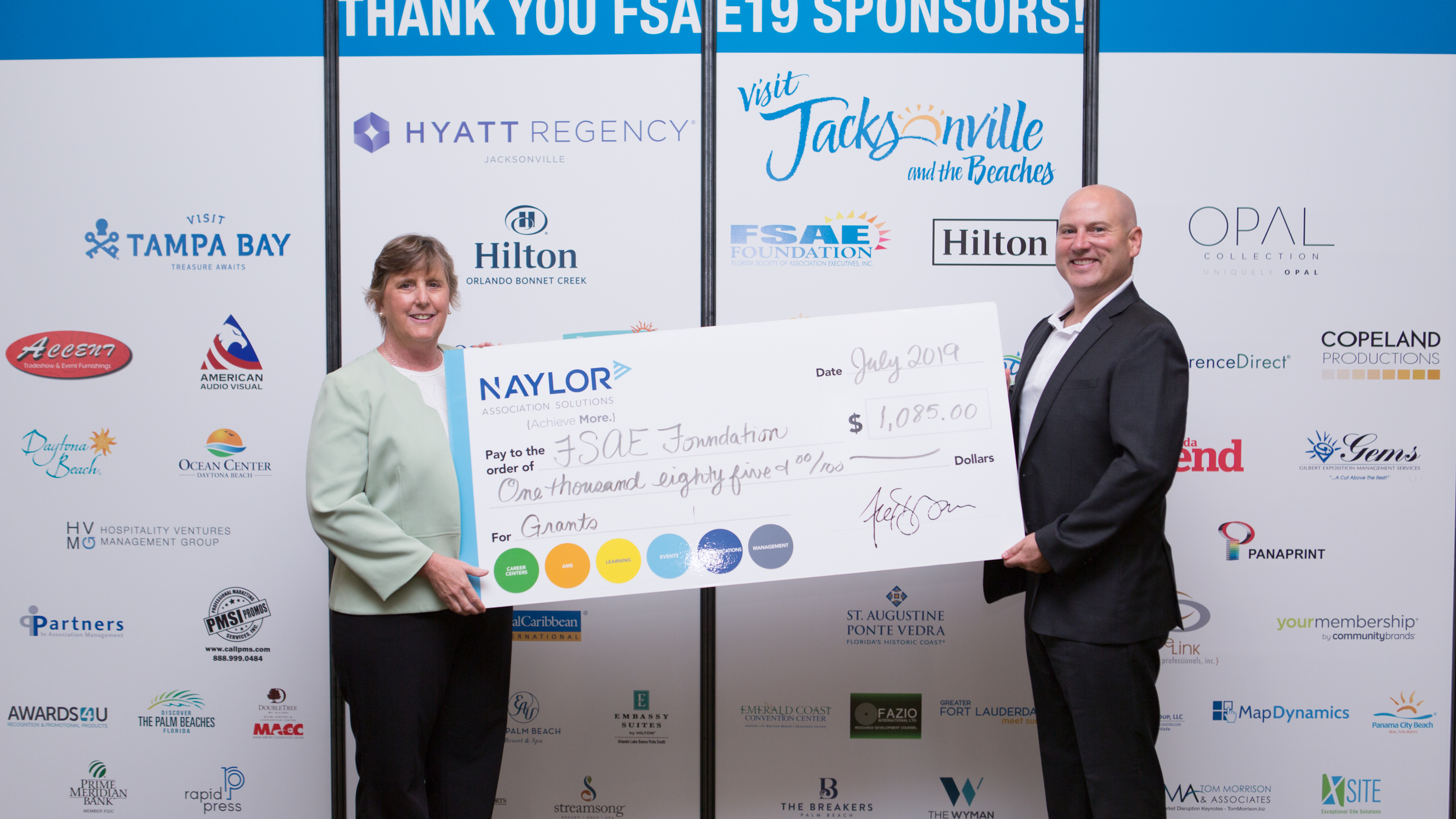 "Naylor values our long-standing relationship with FSAE and is proud to support the FSAE Foundation Grant Program," said Jeff Carnes, Naylor Association Solutions. "By helping association professionals attend the highly relevant educational and networking opportunities offered by FSAE, we hope to facilitate their ability to achieve more in their careers and to grow member engagement and revenue for their association."
The 2018-19 FSAE Foundation Chair, Frances Gilbert, CAE, President and CEO of Starfish Management Solutions said, "I'm so pleased that the Foundation was able to provide 29 grants for more than $17,000 to assist our members with their professional development goals.  Part of the Foundation's mission is to support education and professional development and by providing opportunities to our Association Executive Members and our Associate Members, we improve the association management industry as a whole.  I'm proud of the programs the Foundation offers and am very appreciative of all the companies and individuals who donate to the Foundation. We could not do it without their support."
The 2019 FSAE Foundation Grant Recipients are:
Hilton Diversity & Inclusion Grant
Heather Armstrong, Executive Director, Recycle Florida Today, Inc.
Mia Thomas, Director of Learning - Curriculum Development, FL Institute of CPAs
Hyatt Hotels in Florida Grant
Jason Carroll, CMP, Executive Director, Friends of the Riverwalk
Lynn Hupp, Chief Operating Officer, Kautter Wenhold Management Group
Charla Lucas, Director of Marketing, Communications and Strategic Vision, FL Recreation & Park Assn
Cathi C. Lundgren, CAE, CMP, Vice President of Global Accounts, HPN Global
Corey G. Mathews, CAE, President/CEO, Your Association Office, Inc.
MARSAT – Marriott International Grant
Samantha Hobbs, Director of Government Affairs and Executive Policy, FL Engineering Society
Amy J. Holmes, CAE, President, Amy Holmes Communications
Melissa Keahey, Director of Meetings & Events, FL College of Emergency Physicians
Austin Moser, Coordinator of Foundation Affairs, FL Dental Assn Foundation
Lindsey Rowan, Program Manager, Partners in Association Management, Inc.
Nicole Smith, Communications Manager, Assn of Collegiate Schools of Planning
MemberClicks Small Staff Grant
Jennifer K. Abdelnour, Public Affairs and Communications Coordinator, Center for Fine Arts Education
Angel Estep, Executive Director, Northwest District Dental Assn
Chad Faison, Chief Operating Officer, FL Engineering Society
Naylor Association Solutions Communications Grant
Christie Grant, Executive Services Manager & Policy Coordinator, FL Hospice & Palliative Care Assn
Naylor Association Solutions New Member Grant
Jessica Bleess, Manager, Digital Strategy & Web Content, ISPE - International Society for Pharmaceutical Engineering
FSAE Foundation "A Year of FSAE" Grant
Karen Fast, Strategic Marketing and Membership Manager, Orange County Bar Assn
Rachel Sullivan, Program Manager, Partners in Association Management, Inc.
FSAE Foundation Associate Grant
Elizabeth Baranik Pardillo, CMP, National Account Manager, Experient, A Maritz Global Events Company
Christopher Brown, CAE, Senior Consultant, Bloch & Reed Association Advisors
Carolyn R. Fazio, ECAM, CEO, Fazio International, Ltd.
FSAE Foundation CAE/CMP Grant
Krystal Ferm, Director of Events & Sponsorships, GMS Group, Inc.
Rodney McCammon, Meetings Coordinator, The Florida Bar
FSAE Foundation Young Professionals Grant
Kenlee Bruggemann, Meeting Assistant, FL Dental Assn
Andrew Humphrey, Director of Finance, GMS Group, Inc.
Justin Mischler, Program Manager, Partners in Association Management, Inc.
Jon Shiver, Director of Membership & Marketing, AIA Florida
Grant Donor photos by Copeland Productions
Share this post: