2019 FSAE Leadership Award Winners Announced
FSAE presented its most prestigious leadership awards at its recent Annual Conference held at the Hyatt Regency Jacksonville Riverfront. The Executive of the Year Award honors an association executive who has displayed the highest commitment to professional growth and dedication to advancing the association management profession. The Associate of the Year Award honors an association supplier whose dedication and leadership also advances the industry. FSAE's Rising Star Award honors an association professional and/or supplier member who contribute significant time and talent to ensure FSAE's continued success.
FSAE also recognized organizations that support the association industry and local communities. Our Association of the Year and Supporting Associate Organization of the Year awards honor organizations that demonstrate outstanding efforts, excellence and innovation.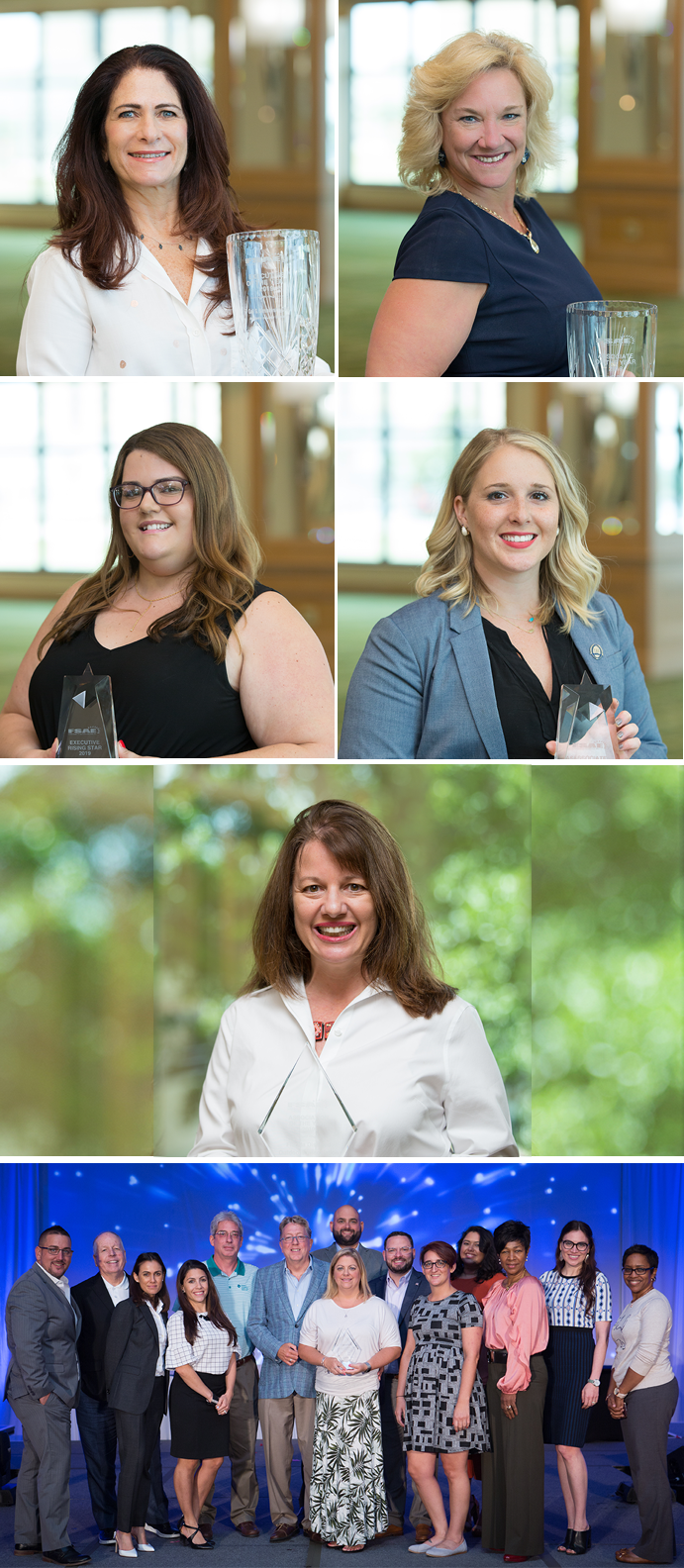 The award winners for 2019 are:
Executive of the Year: Gail S. Siminovsky, CAE; Executive Director, Academy of Laser Dentistry, Coral Springs, FL
Gail Siminovsky, CAE has worked in association leadership since 2000. She currently serves as Executive Director of the Academy of Laser Dentistry, an international association educating dentists on laser technologies and transforming the patient experience, based in southeast Florida. A member of FSAE since 2008, Gail has served on the FSAE Board of Directors since 2017 and continues to serve on numerous FSAE Committees.
Associate of the Year: Kathy Masterson, CHSP; Director of Sales, Hard Rock Hotel Daytona Beach, Daytona Beach, FL
Kathy Masterson, CHSP has worked in the hospitality industry in Daytona Beach for more than 20 years.  She began her career as an Assistant Front Office Manager, moved into Convention Services and has been in Sales since 2003. Kathy held positions with Hilton, Intercontinental Hotels Group and several independent properties prior to her current role as Director of Sales for Hard Rock Hotel Daytona Beach. A member of FSAE since 2010, Kathy has served on the Silent Auction Committee for the past 3 years and currently serves on the Associate Advisory Committee.
Executive Rising Star: Krystal Ferm, Director of Events & Sponsorships, GMS Group, Inc., Tampa, FL
Krystal Ferm has been in the association industry for 12 years. She works at GMS Group, Inc., an Association Management Company based out of Tampa, Florida. Hoping to improve her skills in her position as Director of Events & Sponsorships, Krystal is scheduled to sit for her CMP exam in early 2020. Active on committees for both FSAE and MPI, Krystal enjoys using her planning skills to give back to her industry.

Associate Rising Star: Alexis Simoneau, CAE; Evangelist, Novi AMS, Tallahassee, FL
Alexis Simoneau, CAE is rising through her sixth year in association management. After spending the first five years of her association career working for three different associations, she transitioned into her current role as a Software Evangelist for Novi AMS. Alexis joined FSAE in 2015 and has served on at least one committee each year since then.
Association of the Year: Florida Disabled Outdoors Association, Tallahassee
The Florida Disabled Outdoors Association (FDOA) enriches lives through accessible inclusive recreation. FDOA was formed in 1990 to help people of all abilities benefit from physical activity. Educating over 100 organizations and 18,000 members on accessible inclusive recreation, FDOA serves people of all ages and all abilities throughout Florida and beyond.
Supporting Associate Organization of the Year: Hyatt Hotels in Florida
Hyatt Hotels in Florida was founded in 1984 as a collaborative effort for various Hyatts in Florida to work specifically for the state Association Market for professional development and Community Support. This includes donating over $150,000 in grant and scholarship funds to FSAE members as well as coordinating numerous community service projects throughout Florida.
"There is no greater honor than being recognized by your peers for being the best of the best," said FSAE Board Chair Jim Ayotte, CAE. "These individuals and companies set the standard for professional excellence and exemplary leadership in the association community. Congratulations on this well-deserved honor."
Each year FSAE recognizes individuals for their leadership, dedication, and professionalism both within FSAE as well as their own organizations.  Each recipient is nominated by their peers and selected by committee-review according to strict criteria of excellence and achievement. Award recipients' professionalism and leadership are evident in both services to the association management profession and to the local community.
Photos by Copeland Productions 
The Florida Society of Association Executives (FSAE) fosters collaboration of association management professionals through networking and educational events, online communities and best-practice resources. With over 1,100 members, FSAE has been serving the association industry throughout Florida for 60 years. To learn more, visit www.fsae.org.
Share this post: