2021 Grant Applications Now Open!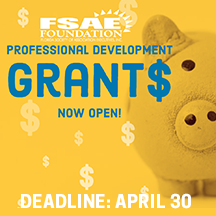 FSAE Foundation Grants Extend Your Budget for Professional Development!
Get the professional development skills and hours you need - with a little help from your friends at FSAE. This year we're pleased to announce over $9,980 - up to 17 grants are available! Learn More
Grants include funding to attend Annual Conference, earn CAE/CMP certifications, and special grants for communication staffers, Young Professionals, Small Staff, Under-Represented Diverse Groups and one specifically for a non-member (tell your friends!). 
The FSAE Foundation 2021 Grants are available thanks to the generosity of MemberClicks, Naylor Association Solutions and the contributions of FSAE members. For many years, Foundation Grants have been funded by Hilton Worldwide, Hyatt Hotels in Florida, MARSAT & Marriott International, MemberClicks, Naylor Association Solutions, FSAE member contributions, and other supporters.Thank you!
Deadline to Apply: April 30
Share this post: