Discover the Palm Beaches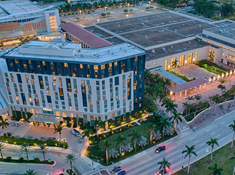 From well-appointed executive boardrooms, timeless hotel ballrooms, private outdoor rooftop terraces and spaces to the sprawling Palm Beach County Convention Center, The Palm Beaches offer a perfect fit for every meeting size and event need. Brandon Hall, CMP, and our award-winning Destination Services Team will be your right-hand in planning, and in finding the community partners who will bring innovative and engaging experiences to elevate your attendee's experience.  Imagine having an artist producing a live installation in the exhibit hall, or a local coffee roaster serving coffee & tea to order out of an outfitted VW van in the pre-function areas.  It's all within reach when you leverage our relationships and community to bring a local Palm Beaches touch to your event.
Learn more about the world-renowned hotels and meeting spaces we offer, our vibrant downtown meetings districts and the promotional offers that give you more, for free.  Start planning with us today!