Discover the Palm Beaches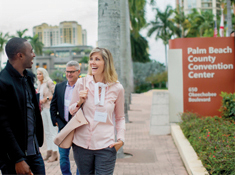 Meetings in The Palm Beaches have it all – a safe, innovative and inspiring experience, without the hefty price tag.  In partnership with the Palm Beach County Convention Center, DTPB is offering planners the opportunity to build the perfect event according to their requirements and budget.  Choose your free promotional offer when you submit a new RFP for a qualified event. Packages include technology enhancements, meeting space rental, outdoor receptions or transportation.
Our award-winning Destination Sales and Services Team will help facilitate partnerships with our talented community of industry thought leaders and world-class service providers to add interactive experiences to surprise and delight attendees.  As the first in Florida to commit to a GBAC STARTM Accreditation program destination-wide, planners can feel confident that consistent health and safety protocols are strictly adhered to throughout The Palm Beaches.