We are excited to launch the following new features on fsae.org:
FSAE Digital Learning Platform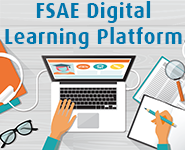 FSAEs new learning management system (LMS), the FSAE Digital Learning Platform features recorded Roundtables and Power Luncheons over the past year and a half. Important topics like contract negotiations, digital badges & microcredentials, bias and inclusion are all at your fingertips for on-demand education and credit. Plus, these recorded meetings are FREE for members though March 31, 2022! Our Qualified Association Specialist program is also available on the LMS. Check it out!