Study Reveals Diversity and Inclusion are a Priority For Florida Associations and Provides Growth Opportunities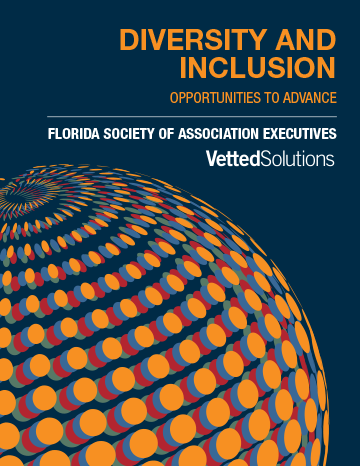 The Florida Society of Association Executives, partnering with the executive search firm Vetted Solutions, released the results of a survey on diversity and inclusion within its member trade and professional associations in Florida.
The survey is the first in Florida to analyze qualitatively the state of associations' efforts to incorporate diversity and inclusion into their day-to-day operations and their staffing and strategic plans. The study results indicate that while Florida associations recognize diversity and inclusion are significant factors to an organization's success, many are still working through the practical implementation to more fully realize their goals:
More than 90% of the executives who responded believe diversity and inclusion efforts definitely or probably contribute to a more successful association. However, more than two-thirds do not have a diversity strategy for hiring, retention, or promotion.
More than 57% of respondents have an expressed commitment to diversity and inclusion as part of their association's core values, but more than 57% say their organizations do not have specific action plans that demonstrate a commitment to diversity and inclusion.
More than 81% work with diverse others to achieve mutual goals, yet nearly 38% indicate that finding qualified diverse applicants remains a challenge.
"This study is an important benchmark for Florida associations," said FSAE President/CEO Frank Rudd, CAE, CMP. "The data shows a significant incorporation of diversity and inclusion principles, and that Florida associations have begun to make explicit commitments in their mission statements, succession plans, and performance indicators. It also helps our association members, as well as FSAE, identify areas for support and education in order to successfully embed these important principles in every level of an association and its work." He anticipates FSAE's Diversity, Equity & Inclusion Task Force will focus on developing resources to address these challenges.
James Zaniello, President at Vetted Solutions, added, "Nearly two-thirds of the respondents were the President or CEO of the association, which shows a clear commitment to see these efforts succeed. We are thrilled by the honest discussion of challenges these associations face, especially those with small staffs, as well as the recognition that all organizations are strengthened when all voices are included."
The Florida Society of Association Executives (FSAE) fosters collaboration of association management professionals through networking and educational events, online communities and best-practice resources. With approximately 1,100 members, FSAE has been serving the association industry throughout Florida for more than 55 years. To learn more, visit www.fsae.org.
Vetted Solutions is an executive search firm specializing in association, nonprofit, and hospitality/destination marketing community recruiting and consulting. Further information on the firm can be found at www.vettedsolutions.com.
Share this post: