Association Leaders Receive Grants for Professional Development and Continuing Education
The Florida Society of Association Executives Foundation has granted over $9,980 this year to 17 professionals across Florida.  The members that received these grants will use the 2021 funds for professional development and educational opportunities that help advance their careers in the non-profit and association management industry.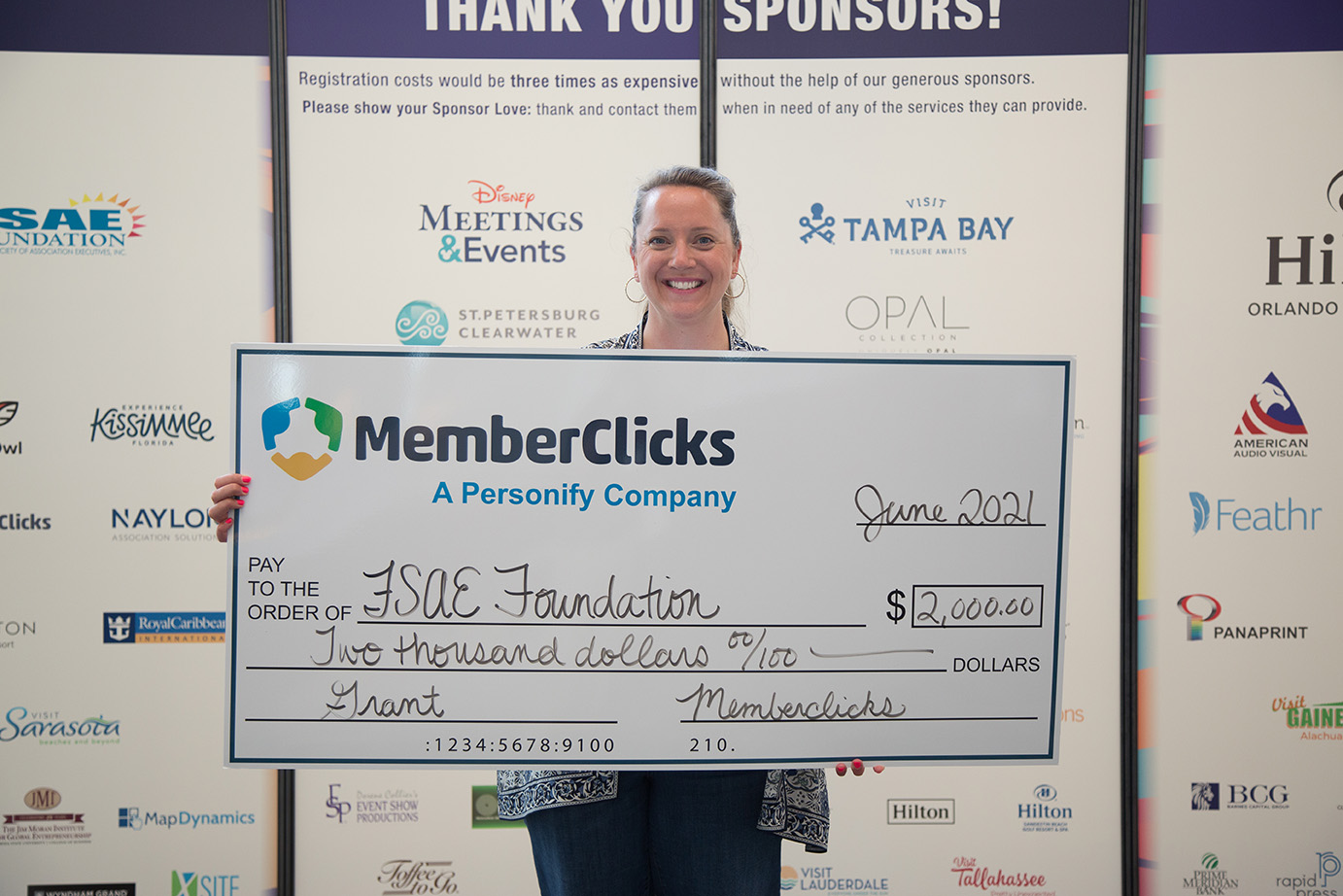 "MemberClicks is proud to be a long-standing supporter of FSAE and the FSAE Grant Program. Association professionals do so much to advance their respective industries. They all deserve to advance professionally, and it's a privilege to assist in the funding of that," said Mark Sedgley, President and CEO of MemberClicks, a Personify Company.
Pictured: Meg Tereniak, Strategic Account Manager, MemberClicks, a Personify Company
"We're proud to support FSAE members through the FSAE Grant Program," said John Kilchenstein, senior director for business development for Naylor Association Solutions. "It's so important for association professionals to have greater access to career advancement opportunities like those FSAE offers. Naylor helps build individuals and their associations stronger by facilitating that access to memberships and programming." Pictured: John Kilchenstein
The 2020-21 FSAE Foundation Chair, Lonny Powell, CEO of the FL Thoroughbred Breeders' and Owners' Assn said, "The mission of the FSAE Foundation is to provide opportunities to our members to attend educational events and earn CAE and CMP certifications. This year we are pleased to support a significant number of grants giving opportunities for professional development to both our Association Executives and Associate Members. By providing the resources needed for our members to receive critical continuing education, we improve the overall knowledge of individuals involved in the association management profession. And, through our Young Professionals program, we are also able to support the newest members of our profession as they start their professional careers."

The 2021 FSAE Foundation Grant Recipients are:
MemberClicks Small Staff Association Grant
• David Higgins, CAE, Director of Sponsorships, FL Assn of School Administrators
• Eileen Johnson, Director of Administrative and Technology Services, Association of Florida Colleges
• Cecily Millan, Vice President, GMS Group Consulting Inc
• Liz Oberman, Director of Learning & Knowledge Management, FL Coalition for Children
Naylor Association Solutions Communications Grant
• Charla Lucas, Director of Marketing, Communications, and Strategic Vision, FL Recreation and Park Assn
Naylor Association Solutions New Member Grant
• Beth Morris, Finance & Membership Manager, FL School Nutrition Assn
FSAE Foundation "Year of FSAE" Grant
• Cathi Lundgren, CAE, CMP, CEO, The Lundgren Group
• Tondra Matthews, CMP, Programs & Fiscal Director, FL Trust for Historic Preservation
FSAE Foundation Associate Member Grant
• Christine Capozzi, President, Impact Conference Planning, Inc.
• Darin Henry, Vice President, Global Accounts, HPN Global
• Andrea Kinney, Director, Global Events, POP Experiential
FSAE Foundation CAE-CMP Grant
• Tamekia Bennett, Operations Director, FL Society of Health-System Pharmacists (FSHP)
• Will Ferguson, Program Manager II, Partners in Association Management
FSAE Foundation Diversity Grant
• Heather Armstrong, Executive Director, Recycle Florida Today, Inc.
• Gabrielle Gabrielli, CGMP, Executive Director, Life Worth Leading
FSAE Foundation Young Professional Grant
• Erin Ballas, Associate Partner, Public Affairs Consultants
• Candace Yeager, Director of Marketing and Communication, FL Home Builders Assn
For additional information about FSAE and the FSAE Foundation, contact Hester Ndoja, CAE at [email protected] or (850) 702-0944.
Share this post: